Description
Sleeping without anxiety has never been so easy…

If you've ever had trouble falling asleep you know how tough it can be. Never-ending racing thoughts, you check your phone and somehow hours have gone by and you still don't feel tired. We feel you.
That's why we invented the weighted plushie designed to simulate warm cuddles from a loved one, relieving anxiety, stress, and insomnia, putting you to sleep with ease.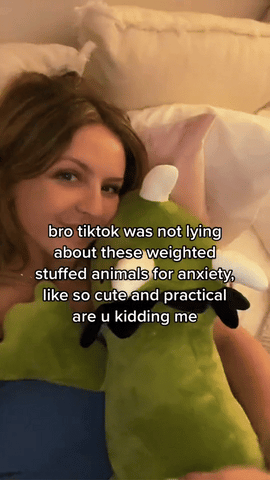 Better sleep has been linked to improved mental health, better mood, and decreased stress.
Reduce Stress and Increase Serotonin
Applying comforting weight has been proven to reduce stress, increase focus, and increase serotonin!
Fall Asleep Faster 
Nothing beats falling asleep with a hug from our weighted plushies! You'll fall asleep faster than ever before
The Perfect Gift for Someone You Love
Our Weighted Plushies are the perfect gift for a family member or friend. We promise they'll never forget it!
Standard: 16 inches
Large: 24 inches